Leave No Trace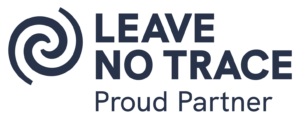 There is no substitute for nature. From neighborhood walks to backcountry treks, the outdoors is for everyone. But it all has an impact. More use, over use, trash, endangered wildlife and around it all: climate change. Leave No Trace empowers people to be the solution to conservation. Through pioneering science, sustaining partnership and activating proven training and education systems, Leave No Trace leads the way. No matter where or why you get outside, it's yours to protect.

Follow the seven principles of Leave No Trace to keep the Huron River healthy and beautiful!
The Seven Principles
1. Stick to Trails and Camp Overnight Right 
Walk and ride on designated trails to protect trailside plants.

Avoid stepping on flowers or small trees. Once damaged, they may not grow back.

Respect private property by staying on designated trails.

Camp only on existing or designated campsites to avoid damaging vegetation.

Good campsites are found, not made. Don't dig trenches or build structures in your campsite.

Walk, ride and run on designated trails and roads to protect trailside plants and animals.

Respect private property by paying attention to the park boundary lines and signs.

Avoid digging trenches, attaching items to trees, or building structures in your urban park.

Always use designated docks to launch or anchor your boat and only fish in designated areas.
 2. Leave It As You Find It
Leave plants, rocks, and historical items as you find them, so others can enioy them.

Treat living plants with respect. Carving, hacking, or peeling plants and trees may kill them.

Remember, park vegetation, logs and rocks are often critical habitat for urban wildlife. Please leave these items undisturbed.
3. Keep Wildlife Wild
Observe urban wildlife from a distance and never approach, feed. or follow them. Squirrels and birds nest in parks, even when not visible.

Human food is unhealthy for all wildlife and feeding them starts bad habits and alters natural behaviors.

Protect wildlife by securely storing all of your food and trash.

Pay attention to signs and avoid sensitive habitats. Control your pet. Even leashed dogs can disturb wildlife and other visitors.
4. Know Before You Go
Be prepared! Remember food, water and clothes to protect you from cold, heat and rain.

Use maps to plan where you're going, especially in urban natural areas. Check them along the way so you'll stay on course and won't get lost.

Remember to bring a leash for your pet and plastic bags to pick up your pet's waste.

Learn about the areas you plan to visit. Check online and learn park rules before you go; including needed permits, access for wheeled vehicles, such as bicycles and skateboards.

Know the parks' dog off-leash and waste removal regulations, where dogs are allowed or restricted
5. Trash Your Trash and Pick Up Poop
Pack it in, pack it out. Put litter–even crumbs, peels and cores–in garbage bags and carry it home.

Use designated bathrooms or outhouses when available.

Use a plastic bag to pack out your pet's poop to a garbage can.

Keep water clean. Do not put soap, food, or human or pet waste in wetlands, lakes or streams.

Always bring a leash and bags to pick up your pet's waste.

Locate garbage cans in the parks you visit to dispose of trash properly. If garbage cans are full, plan on taking out your trash.
6. Be careful with Fire
Fire is allowed in designated firepits in some parks. Use of fire must comply with all applicable laws.

The ignition of fireworks is illegal in many locations and strongly discouraged elsewhere along the water trail.

The use of cigarettes and other flammable tobacco products is strongly discouraged. If used, they must be disposed of properly in the watercraft and not discarded in waterways.
7. Share Our Trails and Manage Your Pet
Be considerate when passing others on the trail in urban and natural areas.

Give anglers plenty of space as you pass.

Keep your pet under control to protect it, other visitors, and wildlife.

Listen to nature. Avoid making loud noises, yelling, or amplifying music. You will see more wildlife if you are quiet.

Be sure the fun you have outdoors does not bother anyone else. Other visitors want to enjoy the outdoors, too.
© 2004 by the Leave No Trace Center for Outdoor Ethics: www.LNT.org.
About Leave No Trace
Leave No Trace is a 501(c)(3) nonprofit organization providing Leave No Trace programs, education, training and outreach in all 50 states and more than 100 countries around the globe. Utilizing the power of science, education for all, and stewardship to support and protect nature, Leave No Trace is on a mission to ensure a sustainable future for the outdoors and the planet. The Huron River Watershed Council and Water Trail are a proud partner of Leave No Trace.