PFAS and Recreation on the Huron River
It is Safe to Swim and Boat.
As the emerging threat of PFAS has unfolded across Michigan and on the Huron River, it's raised concerns about recreation.
The good news is that swimming and boating on the Huron River Water Trail are still okay. For those activities, we can continue to enjoy the water as we have. PFAS isn't a health risk when exposed to skin. It's a health risk when ingested over time, so accidental mouthfuls of river water are no cause for concern.
The bad news is that the State of Michigan has issued a Do Not Eat Fish Advisory for the entire river.  Anglers should not eat any fish from the Huron River or the connected waterways for the foreseeable future. We expect that advisory will remain in place for several years.
The state also issued a second advisory telling people not to ingest river foam. Those of us with pets or small children should stay away from river foam when possible and avoid lingering below dams or where foam tends to occur. PFAS concentrates in foam. That said, foam is naturally occurring on the river and not all foam is PFAS foam, but it's often impossible to know the difference by looking at it. Wash your hands and rinse off after making contact with foamy water. Rinsing with non-foamy river water is okay.
As we head into the 2019 paddling season, there are many encouraging signs. PFAS levels were much higher on the Huron River during the late summer of 2018. One of the major sources of PFAS to the river took steps to reduce its discharge of PFAS chemicals, and contamination levels on the river have dropped significantly.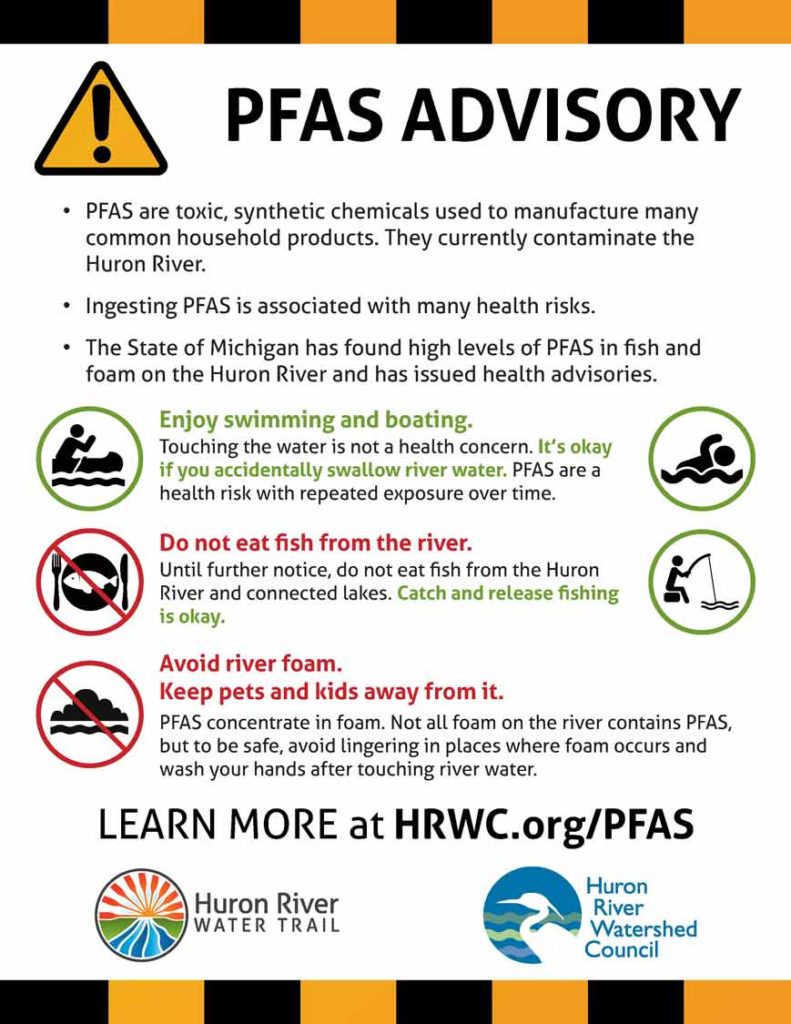 There are likely several other lesser sources, and the Huron River Watershed Council is working with state and local partners to identify those sources, reduce contamination to the river, and inform paddlers on the Water Trail. Visit HRWC.org/PFAS for updated information.
HRWC has created an informational flyer, at left, for outfitters and other Water Trail Partners who provide river-related services to the public. It is also available as a larger poster. Contact Daniel Brown at [email protected] if you need one to post at your place of business.
https://huronriverwatertrail.org/wp-content/uploads/2019/05/2018-07-15-Baseline-Swim-Baseline-Lake-Michigan-0986-web.jpg
750
1125
Daniel Brown
https://huronriverwatertrail.org/wp-content/uploads/2013/06/logo-hrwt_375x1501.jpg
Daniel Brown
2019-04-01 12:00:55
2021-06-11 13:51:28
PFAS and Recreation on the Huron River