To combat the spread of COVID-19 in Michigan, Governor Whitmer extended the "Stay Home, Stay Safe" executive order until May 15. Please remember to stay home as much as you possibly can and stay at least 6 feet from others if out. People should do everything they can to stay away from others outside their own households. Exercise and outdoor activity is allowed under the order assuming you take appropriate precautions. Indeed, paddling, biking, running, or hiking can be a great way to put even more social distance between yourself and others. In many cases, getting out on a river or a lake is the most secluded you can be in Michigan.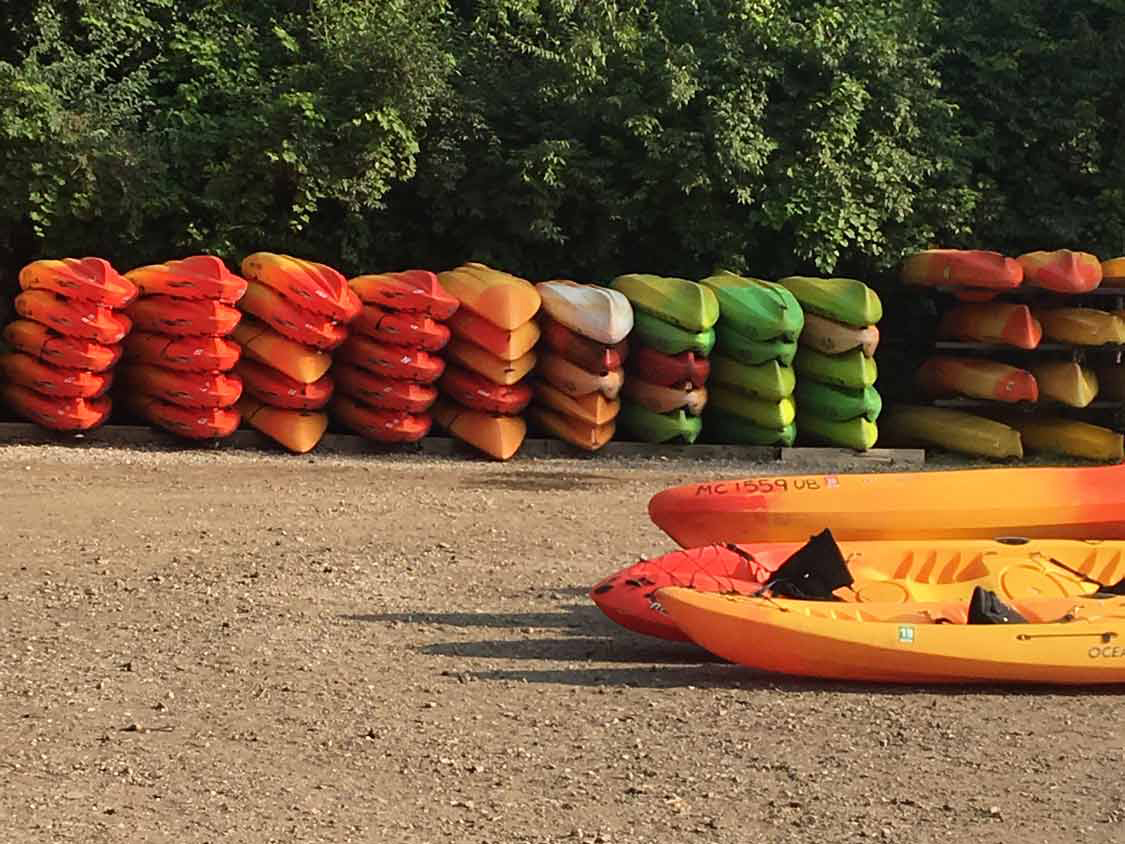 That being said, the Huron River Watershed Council encourages you to follow the executive order and stay home to stay safe. Most of the facilities, services, and businesses along the Huron River Water Trail will be closed through May 15 and perhaps even longer. Most public restrooms are closed. Campsites are closed. Many of the river access points will be closed to motor vehicles.
Check for closure updates with Water Trail partners:
Even after official COVID-19 guidelines are relaxed, it will be wise to practice social distancing for the next year, even into the 2021 paddling season. If you do choose to explore the water trail or paddle elsewhere, the trick is to avoid others while traveling to your destination, while you paddle, and while you load up to come home.
Here are tips to keep yourself safe from COVID-19 while exploring the Huron River or other waterways:
Avoid popular paddling or outdoor activity locations and time your trip wisely. We can't stress this point enough. If you know a popular outdoor recreation area will likely draw a lot of people, go somewhere else. This makes following all the other guidelines easier. For example, we have seen a surge in paddlers with their own boats on the Huron River between Dexter and Ann Arbor, and some paddlers have reported difficulty in finding parking at a safe distance from others. With schools and businesses closed, keep in mind that many people will be out at times they normally wouldn't be–making for unexpected crowds.
Paddle in places that you know require far less paddling skill than you have.  Take every precaution to paddle safely and avoid a paddling-related injury. Even in the Huron River's urban areas an injury could leave you stranded in a location that is difficult for first responders to reach. You'll be drawing emergency personnel away from COVID-19 response efforts, and you will likely be exposed to medical staff that have been exposed to the novel coronavirus themselves.
Keep your group size small. Normally, we recommend paddling with a friend. Under these circumstances, we recommend paddling solo in a safe place you already know well while letting friends know where you're going and when. Keep your paddler group limited to 2-3 people at most.
Maintain at least a 6-foot distance at all times from others outside your household and minimize the time you're in the same vicinity as others. Carry on friendly conversations with folks you haven't seen for a while over the phone. This applies to all activities. Even while you're paddling, stay 6 feet away from others on the waterway. This includes other paddlers, even those in your own group. Keeping a full kayak paddle length between you and others should be enough.
Bring supplies to wash your hands and bring your own hand towel. Throw a bar of soap, a bucket, and clean water in with the rest of your gear so you can wash your hands before and after paddling. Hand sanitizer is another option.
Only touch your own gear. Again, we're applying a common rule to paddling. If you help someone carry a boat, remember where you touched it. If you carry the stern to launch, carry the stern when you take out.
Avoid areas that require you to touch common surfaces. If you know there's a tricky portage or launch that might make you want to grab a railing or put your hands down on a common surface, consider alternatives, or be prepared to wash your hands while in the middle of your trip.
Avoid sharing snacks and drinks. Bring plenty for everyone to have their own stash. Avoid all sharing. Make every person carry their own food bag.
Camping along waterways isn't advised under active state and federal guidelines. Most parks and camping areas will be closed and unmaintained. If you're planning a through-paddle for the 2020 season, plan to stay at home at night and pick up where you started the next day while following all other guidelines.
Don't let COVID-19 distract you from following normal safety precautions. This is all a distracting, frustrating mess, and it will end eventually. Until then, take your time. Make sure to follow standard safety procedures like telling your friends where you're going, checking river and weather conditions before you leave, and wearing a personal flotation device.
If you do go out, share your stories on social media! We all like paddling with friends and sharing the experience. Share your love of the river remotely. Use hashtags #huronriver and #huronriverwatertrail.
If you choose to stay home, you can still explore with our  HURON RIVER VIRTUAL TOUR.
https://huronriverwatertrail.org/wp-content/uploads/2020/04/IMG_3357-cropped.jpg
844
1125
Daniel Brown
https://huronriverwatertrail.org/wp-content/uploads/2013/06/logo-hrwt_375x1501.jpg
Daniel Brown
2020-04-27 21:02:48
2020-04-27 21:02:48
Paddling safely during COVID-19